Air Conditioning Repair in Nashua, NH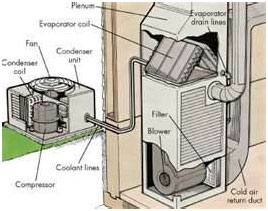 At Best Heating & Air test not only do our technicians provide air conditioning repair service to deliver ice-cold air, but they can actually help you lower your electric bills. We truly understand the importance of cutting your energy and operating costs, making you comfortable, making the system safe to operate for you and your family and protecting the environment.
All of our professionally trained technicians are skilled at finding energy-wasting problems on your air conditioning system.
To schedule an appointment for service on your air conditioning systems click here.
Replacement or Upgrades
The average air condition system will operate safely and efficiently for approximately 10 to 15 years. After that, the system's questionable reliability and reduced operating efficiency typically make the system outdated. For example, 12 years ago the average system had a Seasonal Energy Efficiency Ratio (SEER) of 8. If the system has dirty or damaged heat transfer surfaces it will be operating around 50% less efficient or around 6 SEER today!
Federal regulations implemented in 2015 require that all new replacement systems have a minimum rating of 14 SEER although in some parts of the country it can be at least 13 SEER. The average rating of a replacement in our area is 16 SEER.
Nearly every one of the air conditioning systems we replace are filled with R-22 Refrigerant which has tripled in price due to regulatory phase-out. An existing system with R-22 that needs to be charged every few months is getting too expensive to operate. This refrigerant is no longer the "norm". Therefore, when we replace a major component on your existing system we verify that the existing evaporator and condenser are compatible with R-410A, the new environmentally friendly refrigerant. Both the indoor and outdoor section of your system must operate on the same refrigerant.
The best place to start is with our Installed-Right℠ Home Survey to help you quickly identify your requirements for:
Home use such as special air conditioning conditions due to a home office, an exercise room, parties or if there exists unnecessary cooling of closed-off rooms or during unoccupied periods.
Comfort requirements such as stale air problems, specific rooms that are are too hot or too cold, system noise levels, or air that is too humid (muggy) or too dry (e.g. static electricity, dry throat or skin).
Health/safety requirements such as indoor air quality, respiratory conditions, humidity control, or child safety concerns around your system.
Property requirements such as if you are planning home renovations or adding on to your home.
Financial requirements such as the importance of saving money on energy consumption and operating cost, working with a contractor that can protect a homeowner from risk and liability, or your wish to explore financing options.
Adding a NEW Air Conditioning System
Is your home without a forced-air air conditioning system? If so, we have options available to you. You can install a ducted system or you may consider a lower cost installation of a ductless mini-split system.
To schedule a free, no obligation appointment with one of our installation advisors to learn more about our entire line-up of cooling systems and system enhancements click here.